2006 Morgan 4/4 70th Anniversary Model
SOLD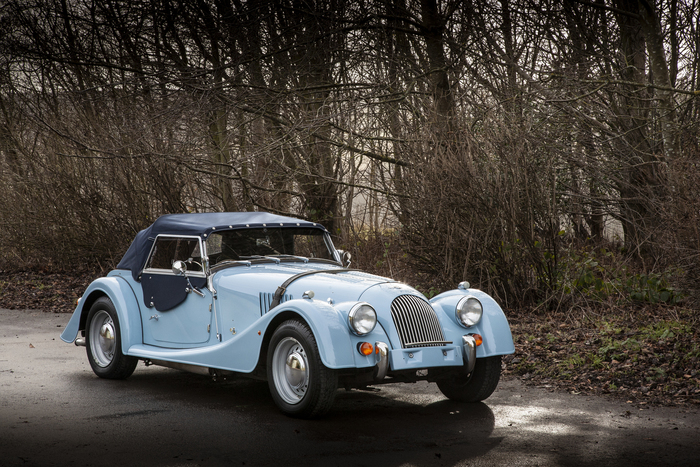 Sorry this car is now SOLD. Please register your interest using our Car Finder service.
We are delighted to offer for sale this rare and beautiful 2006 Morgan 4/4 70th Anniversary edition. There were eight versions of this anniversary celebration model, one for each of the decades in which the Morgan 4/4 was produced.
This particular example is the 1950's version finished in Duck Egg Blue with a Black Leather interior, the Morgan also benefitted from the period aero windscreen, steel wheels with chrome hubcaps, Dark Blue Mohair hood with split rear windows, numbered wood rim steering wheel, Sheepskin leather bonnet strap, clock and 70th Anniversary instrumentation.
Here are a few key historical events that took place in the 1950s.
1950 – Princess Anne was born.
1951 – The Festival of Britain opens.
1952 – Elizabeth proclaimed Queen.
1953 – Sir Edmund Hillary and Sherpa Tenzing conquer Everest.
1954 – Bannister breaks the four-minute mile.
1955 – ITV is the first independent television station to broadcast.
1956 – Petrol rationing introduced.
1957 – Rise in consumerism as Britons 'have never had it so good'.
1958 – Trunk dialling introduced.
1959 – Hovercraft makes a new era in transport.
The '50s was a decade that saw the introduction of the Morgan 4/4 Series 2 in 1952, it opened with the Festival of Britain and closed with mankind entering Space, a time of supreme optimism!
This 70th Anniversary has covered 11,958 miles only and has been enjoyed by one passionate and careful owner. The sale includes a comprehensive history folder of MOT certificates and service invoices as well as a detailed brochure highlighting this special edition.
For further information or to arrange a viewing, please contact our sales team.
Call us on
+44 (0) 1207 233 525
Or why not try our Car Finder Service to locate your perfect match?