1985 AC Cobra Mk4
SOLD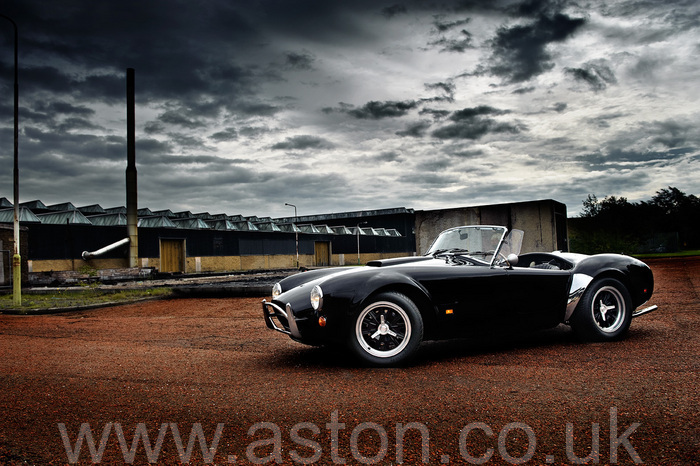 AC Cobra Mk4 by Autokraft of Brooklands Ltd We have for sale a fine LHD AC Cobra Mk4. Manufactured by Autokraft, of Brooklands, Weybridge, under licence from AC Cars Ltd. It is fitted with a 5 litre Ford 375hp V8 engine, tubular frame chassis with alloy coachwork, Tremec 5-speed manual gearbox, coil spring suspension and four-wheel disc brakes. The fire-breathing AC Cobra is one of the most revered of all big block muscle cars. Astonishing performance combined with a beautifully hand built aluminium roadster body made this English/American hybrid sports car an instant classic when it was introduced. The condition of the bodywork is superb and is fully consistent with the AC's very low indicated mileage. It is a stunning looking car in Masons black, which is sure to create a sensation wherever it goes. It comes with a matching black leather interior. ------------------------------------------------------------------ Model History The AC Cobra grew out of a project undertaken Carroll Shelby in the USA, who on examining its 2 litre AC Ace, realised that with some modification, it could be fitted with a small blockV8 engine and then make an exciting sports car that he could develop and race at Le Mans. He approached AC Cars in 1961, and they agreed to advance to him a batch of chassis modified to accept a V8 engine. The engine chosen was the Ford's brand new small block V8 of 260 cubic inch or 4.2 litre capacity. The end result was stunningly successful and AC cars then decided to put this car into mainstream production as the AC Cobra. Mk1. After 75 cars had been manufactured a bigger engine was substituted with 289 cubic in capacity or 4.7 litre and with complimentary chassis strengthening and modifications, production continued. This model, known as the AC Cobra Mk2 continued in production until late 1964/5 at which some 525 examples had been manufactured. During 1963, Carroll Shelby took a production Cobra and modified it to fit the Ford 390 cubic inch V8 engine, in order to continue to have a competitive car for racing at Le Mans. With much support from Ford, an entirely new tubular chassis with full independent all wheel suspension replaced the original chassis. This emerged as the AC Cobra Mk3 but with a smaller 427 V8 of 7.0 litre capacity. With chassis now manufactured in the States, AC Cars continued series production until late 1965 after which AC Cobra manufacture by AC Cars Ltd, ceased.. This car was known as the AC Cobra 427 and sold by AC Cars as the AC Cobra Mk3 Unfortunately, both sales and production of the AC Mark III Cobras began to dwindle by 1967, and by 1968 the Cobra name was found only on hot rod Mustangs. Brian Angliss was a Cobra restorer in England in the mid 1970s. After having great difficulty finding original parts to repair and rebuild customers' Cobras, he began manufacturing and keeping an inventory of parts himself. This led to his formation of the Cobra Parts Company. With so few original AC chassis available, he realized his spare inventory could be used to build complete cars. Angliss began negotiating with AC Cars to purchase many of the original parts' jigs, dies, tooling and body bucks. A strong working relationship ensued between Angliss and AC Cars, which eventually led in early 1982 to AC granting Angliss' Autokraft company manufacturing and AC trademark rights for building a new generation of Mark IV Cobras. By 1986, Brian Angliss, the owner of Autokraft Brooklands Ltd, acquired AC Cars Ltd outright from the Hurlock family after 56 years of ownership, and later attracted Ford as a partner in the venture. Later on, Brian Angliss bought overall control of the company from Ford and manufactured the Mk 4 until 1996. The pedigree of the Mk IV Cobra is reinforced by its inclusion in the Shelby American World Registry. The Registry features only 197 known examples of these Autokraft made AC Cobras Mk4s to be built as original AC cars. The Autokraft AC Cobra MK 4, however, is no copy or plastic replica. It uses the original jigs, body bucks and tooling. In fact it was built in the same factory using the same tooling as those AC built Shelby Cobras supplied to Carroll Shelby. As such, it is a genuine AC Cobra, and a true continuation of the line with its all-aluminium bodywork and 5-litre Ford V8s mated with the bullet-proof Tremec 5-speed manual transmission. -------------------------------------------- This high-powered modern Cobra combines the ease of new car ownership with the style and panache of the late 1960s American sports racer; it is truly a unique chance to buy an essentially new Cobra at a fraction of the cost of its predecessors. This timeless classic is eligible for membership in the AC Owners Club. This car, the 100th car built and one of only 348 factory produced AC Mark IV Cobras, can propel its passengers to 60mph in just under five seconds. Finished in black with black leather interior and showing less than 6,000 miles from new, this awesome roadster is in like new condition. It is in excellent running order and has been maintained by its enthusiast owner regularly. It comes complete with the desirable knock-wheels, aluminium heads, wind wings and optional wood steering wheel. Resplendent in its black paint and interior, this is a great looking example that offers excellent value for the money – especially when one considers this is an aluminium-skinned car in exceptional overall condition. This vehicle is titled as a 1985 and the serial number is SA9AK3026FA017100, also referred to as AK1100 in the AC Owners Club. The LHD car we have for sale comes with all the glamour of a genuine and original AC Cobra. Suitable for track day use, it is also a car that can be confidently used on the road. With incomparable performance, it is a car that will bring a smile to any person who hankers after a beautifully constructed, practical, well equipped sports car with vivid acceleration and roadholding that remains as a practical mode of transport. The original Autokraft AC Cobra Mk4s have a strong following and with the limited examples available, it will not be with us for long. Early inspection is strongly recommended.
Call us on
+44 (0) 1207 233 525
Or why not try our Car Finder Service to locate your perfect match?