1963 Alfa Giulia Spider to full factory Veloce Spec
SOLD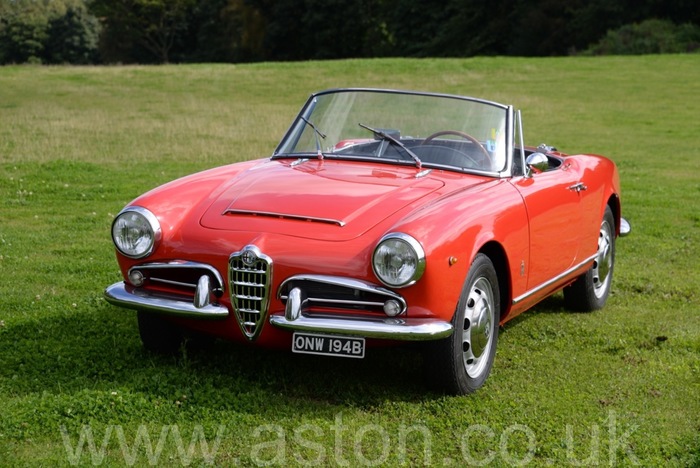 Exceptional Alfa Giulia Spider to full factory Veloce Spec
This beautiful little spider has been the love affair of its owner for the last 15years.
Fully prepared buy a renowned local alfa specialist to a very high standard and with no expenses spared on its maintenance, restoration and upgrades, with over £30,000 of invoices available excluding his personal work to the car, driven 28,000 miles in the hands of its previous loving owner, it's a proper and performance driver, in his words " I would drive this car anywhere"
Viewing is a must , we don't expect to own this car for long, book your test drive now, you may consider paying us a small deposit to secure this car before viewing to avoid a disappointment.
Chassis No. AR 378067 Engine No.AR 00112x18488
Manufactured .Milan IT. 14.10 1963
Delivered Newark USA , 30.1.1964
Red Body ,black interior
History
1989 -1998
Arrived in England in 1989 as a good original car. The then owner, Guy, spent £7,300 on restoration and repair. Invoices are on file for this work .
1998-2004
1998 the car was offered for sale and bought by the brother of a leading Alfa Romeo restoration specialist, Bonello Auto Services.
The following 3 years saw a fanatically detailed mechanical refurbishment and upgrade. Leaving nothing to chance every component was stripped, checked, refurbished, replaced or repaired.
This work amounts in parts alone (all invoices on file) to £8,000. The hundreds of hours of labour by the Bonello brothers is not recorded on what Mike Bonello refers to as a labour of love.
2004-2016
2004 Purchased by the current owner.
During current ownership the car has continued to be maintained and improved by Bonello Auto Services with invoices on file for £12,900.
Multiple improvements to bring the car to as close as is practically possible to an original Veloce spec as per factory technical circular from DIPRE AUTO, AR no. 105.97.764 dated 28.10.64
This document was produced in 1964 to allow standard Spiders to compete as an officially factory sanctioned Veloce conversion car under appendix K in period races .
We have followed these guidelines as close as is practically possible.
These include a fully documented engine rebuild including:
Lightening and dynamically balancing clutch, flywheel, crank, rods etc.
10.9mm lift cams hi comp pistons
Full 4-2-1 tubular Veloce manifold and system
Aluminium baffled sump and hi performance oil pump
Steel rubber Veloce 10 degree engine mounts
Correct type inlet manifold with original twin 40 d.c.o.e s with factory Veloce settings and chokes
Fuel pressure regulator /filter
Remote mounted bendix electric fuel pump
Veloce spec brake drums linings and large girling reservoir
Fully rebuilt 9/41 differential incorporating a LSD
Discreet oil cooler addition
Including sourcing
Genuine 101.18 Veloce air plenum box body and cover
Genuine 101.18 Veloce cam cover
All that remains to add is the correct air box and filter arrangement available from Hienbrand Germany and a set of gauge inserts available from classic Alfa uk
Most recently a complete repaint and major re-chrome to rectify the inevitable minor scrapes and bumps accumulated over the last 22 years was completed.
As a testament to the quality of the original bodywork no major corrosion was present and the car presents extremely well with excellent shut lines and tight panel gaps.
The only area for improvement would be a new hood as the original is perfectly functional but a little tired now.
Call us on
+44 (0) 1207 233 525
Or why not try our Car Finder Service to locate your perfect match?