1955 Austin Healey 100M
Sold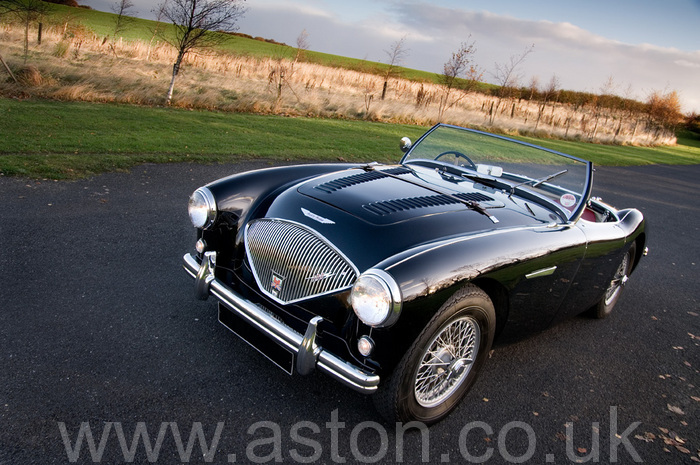 A superb high quality full chassis up restored Healy 100/4 BN-1 with 100/m 'Le Mans' engine modification kit and louvered bonnet, other recent mods include a disc brake kit, suspension mods etc etc, making the car a real driver with a rare and exciting colour scheme, We know the owner of this vehicle well and he has impeccable taste and is a true automotive enthusiast. This car has had a major rebuild with the engine and gearbox overhauled, we also recently repainted the car, all to a very high standard. The car runs, drives and looks great, with an overall spend of in excess of 100k A viewing and test drive of this superb iconic British sports car should be top of your list,we think this heally is a bargain. Please contact Bob on +44 (0)7785115737. The Austin Healey 100 was introduced in October of 1952 at the Earls Court Motor Show. The first Austin Healey 100's were known as 100-4 or BN1. The name 100 came-about by being able to break the 100 mph barrier. The BN also had meaning. The B represented the engine class which meant it had between 2000 and 3000 cc. The N represented the body-style configuration, two-seat and open-top. The 100 was powered by an A90, 2660 cc, and four-cylinder engine capable of producing 94 horsepower. The manual three-speed transmission was also borrowed from the A90. However, the first gear was blocked off and was fitted with overdrive on the second and third gears to provide extra power. The name 'Austin Healey' was formed by a partnership comprising of the designer, Donald Mitchell Healey, and the manufacturer, Austin. During its total production cycle, 10,688 examples of the BN1 were produced.
Call us on
+44 (0) 1207 233 525
Or why not try our Car Finder Service to locate your perfect match?