Mini Cooper S
ENQUIRE NOW
Sold

Use our bespoke finance calculator to discover how we could help you to get the car of your dreams.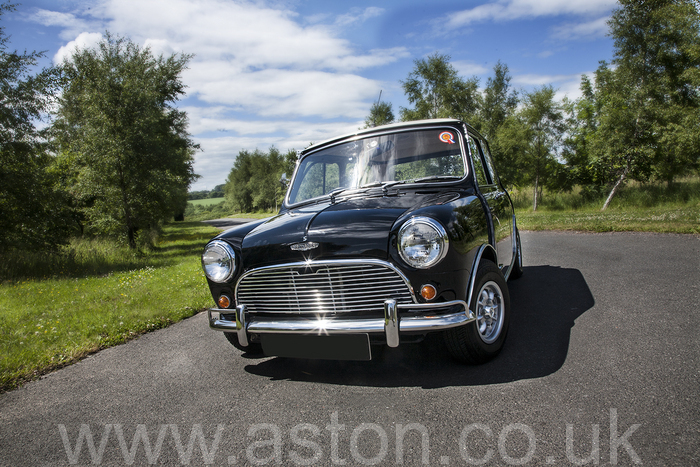 In absolutely beautiful condition, this iconic Mini Cooper S has been lovingly renovated and cared for over the last 20 years. The Aston Workshop undertook a full and complete health check and can categorically confirm the workmanship on the Cooper S is to the highest of standards. As can be seen from the photographs, this has been a very faithful nut & bolt renovation resulting in what must be one of the coolest looking S's on the road today. The heritage certificate indicates delivery to the supplying dealer, Inwards of Hillingdon, on 8 September 1966 with optional extras recoded as; Fresh-air heater, Extra fuel tank, 4½" wheels & Oil cooler. Thanks to the heritage certificate, we can also see that it has retained its original factory colour scheme of Black (Monotone) with Red & Gold/Grey interior • Full restoration including engine & gearbox overhaul • Matching numbers - Heritage certified • Original body shell • 4 speed 'S' gearbox with synchro mesh • Outstanding paint & trim • Underside stone chip protection • Unleaded • Original colour of Black with Cream roof (special factory order) • High back recliner front seats (special factory order) • Mini lite alloy wheels • Chroming detail to engine bay All in all, a fabulous and faithful Cooper S that is sure to be cherished for generations to come. We would strongly recommend any interested parties to pay us a visit to both view and drive this stunning example. Please contact a member of our sales team for further info: +44 (0)1207 233 525
Call us on
+44 (0) 1207 233 525
Or why not try our Car Finder Service to locate your perfect match?