1974 De Tomaso Pantera 5.7 V8
ENQUIRE NOW
Sold

Use our bespoke finance calculator to discover how we could help you to get the car of your dreams.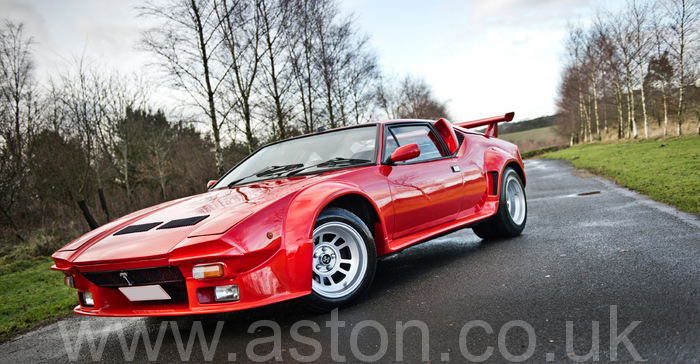 This phenomenal De Tomaso Pantera is the result of one man's determination to have the ultimate incarnation of this incredibly exotic 1970's supercar. Built in January of 1974, this particular car was first registered in the UK during December of that same year. It was in fact fitted with a prototype 3.0 litre V6 engine at the time. The engine was quickly dismissed (and indeed scrapped) to be replaced by a 5.8 litre V8 with weber carburetors. Engine development doesn't end there however, as this superb example of the marque was fitted with a new 5.7 litre V8 in 2012, developing no less than 400 bhp and 390 Lbs/Ft of torque! The engine was built by renowned racing specialists famous for their work on extremely high performance engines and has covered just 1500 miles since. This new engine is at the heart of the restoration undertaken over recent years with no expense spared in detailing this fantastic embodiment of what is one of the most instantly recognisable supercars of the 70's. Perhaps the most notable aspect is the upgrading of the bodywork to that of GT5 specification with it's purposeful rear wing and fantastic wide arches. PLEASE NOTE: Although the car is left hand drive at the moment, all parts are available for Aston Workshop to undertake a LHD to RHD conversion at minimal cost to the new owner. No less than four bulging folders outline the history and work undertaken over the decades, as well as connections to Pierce Brosnan, Eddie Kid and even an appearance in a Coca Cola commercial from the 1980s. As can be seen from the photographs, attention to detail was of paramount importance and the result is a beautifully finished Pantera with the most incredible presence. As good as they are, our photographs only reveal half of the story. Turn the key to unleash the most glorious engine sound with crackling exhaust notes, truly breathtaking and crying out for a stretch of Alpine tunnel. A lovingly restored De Tomaso Pantera is a rare beast, and in this specification even rarer. An opportunity to place that bedroom poster squarely on your driveway, live the dream! For more information please contact a member of our sales team: Telephone: +44 (0)1207 233 525 Email: brian@ston.co.uk Tweet
----------------------- Video featuring this actual Pantera driven by racing driver Justin Bell (son of Derek Bell) on the Orient Express London to Venice racing challenge in 1991 ----------------------- 1988 Diet Coke Commercial with this actual Pantera & Pierce Brosnan: -----------------------
Call us on
+44 (0) 1207 233 525
Or why not try our Car Finder Service to locate your perfect match?