1952 Land Rover Series 1
ENQUIRE NOW
SOLD

Use our bespoke finance calculator to discover how we could help you to get the car of your dreams.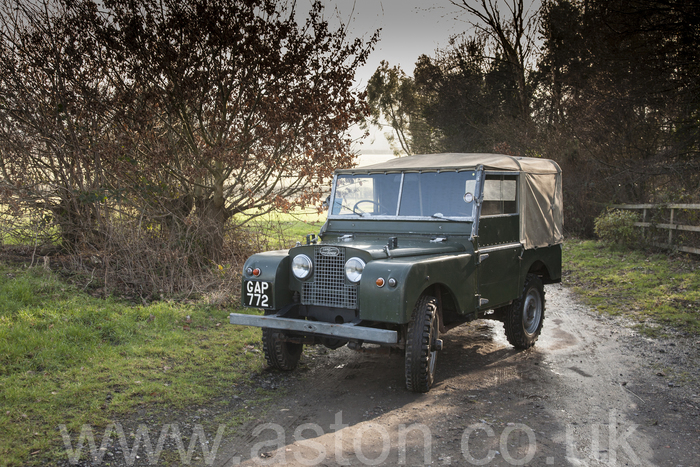 This car was acquired by Aston Workshop around 10 years ago. The previous owner Mark Dixon (editor of Octane magazine) used this vehicle often and even took it on a courageous expedition to Iceland. Despite the car having additions for its expedition it is in remarkably original condition. The bulkhead and chassis both have matching numbers, 26101251. The engine number is 26107334 which is the same year and possibly the original engine from the factory.

Iceland Expedition

At moment there is little information or pictures about the expedition but they are coming soon!
We believe it may even have been featured in Octane magazine.
The Iceland trip meant that the engine's original fan was removed and replaced by an electric fan, this allowed the engine to heat up faster in cold temperatures by using a thermostatic control.
In addition the windscreen water bottle is inside the vehicle to prevent it from freezing.

Electrics
The electrical system has been renovated to excellent working order. "Like new parts" include the wiring loom, ignition coil and voltage regulator, plus a new battery will be installed upon sale.

Chassis, axels and suspension

Chassis is patch and rust free. It's in such a good condition, one would think its been potentially replaced in the past 10-20 years.
The chrome on the swivel housings are immaculate and the axles along with chassis have clearly been re-built. Also the steering box has been re-built and performs well.

Engine

The gutsy engine is in a reliable state. New but "old stock" Lodge spark plugs add a feature of originality. When the Land Rover was acquired, the head was removed & de-choked with the valves lapped. Looking at the cam you can see little wear.

Gearbox

The gearbox runs perfectly and selects every gear, this can sometimes be a problem with Land Rovers. The box also has an overdrive for improved drive-ability on road.
Aluminium Bulkhead
What's interesting about this car is the aluminium bulkhead. When enthusiasts started discovering these vehicles, it was seen as an anomaly to the regular bulkhead design. It's said that during production of the Series 1 Land Rover, the tooling used to press the steel bulkhead broke. With an abundance of ductile aluminium, the workshop decided to fabricate a small number out of this material until regular manufacturing could continue. The bulkhead on this particular car is in brilliant condition and has no signs of corrosion.

Brakes

The brakes are working excellent and have been cleaned, serviced and adjusted.

Reg No. GAP 772
Price £27,500
Aluminium bulkhead
Overdrive
New windows
New exhaust
Bulk-head in good condition

For further information call Fraser: 07585 713 093
Call us on
+44 (0) 1207 233 525
Or why not try our Car Finder Service to locate your perfect match?