1967 Mercedes Benz 230SL Pagoda
SOLD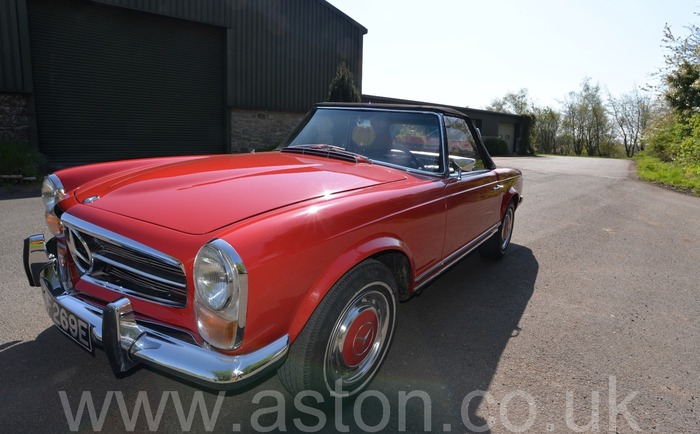 We are pleased to be able to offer this 1967 Mercedes Benz 230 SL in Signal Red with Black hide.

Fully restored 3 years ago to a high standard, had light use and only taken out on dry sunny days ever since. This example of the marque boasts an incredible history file with considerable sums having been lavished on the car in its time. Complete with the original handbook and tools.

A truly stunning example of this model which is a delight to drive and rapidly appreciating in value. It is a great investment that can be enjoyed.

About the 230 SL (W 113) The Mercedes-Benz W 113 is a two-seat roadster/coupé, introduced at the 1963 Geneva Motor Show, and produced from 1963 through 1971. It replaced both the legendary 300 SL (W 198) and the 190 SL (W 121 BII). The W 113 SL was developed under the auspices of Mercedes-Benz Technical Director Fritz Nallinger, Chief Engineer Rudolf Uhlenhaut and Head of Styling Friedrich Geiger. The lead designers were Paul Bracq and Béla Barényi, who created its distinctive, patented, slightly concave hardtop, which inspired the "Pagoda" nickname. All models were equipped with an inline-six cylinder engine with multi-port fuel injection and the bonnet, trunk lid, door skins and tonneau cover were made of aluminium to reduce weight. The comparatively short and wide chassis, combined with an excellent suspension, powerful brakes and radial tyres gave the W 113 superb handling for its time. The styling of the front, with its characteristic upright Bosch "fishbowl" headlights and simple chrome grille, dominated by the large three-pointed star in the nose panel, paid homage to the then already legendary 300 SL roadster. Source: Wkipedia.
Call us on
+44 (0) 1207 233 525
Or why not try our Car Finder Service to locate your perfect match?