1968 Mercedes Benz 280 SL W113-044
SOLD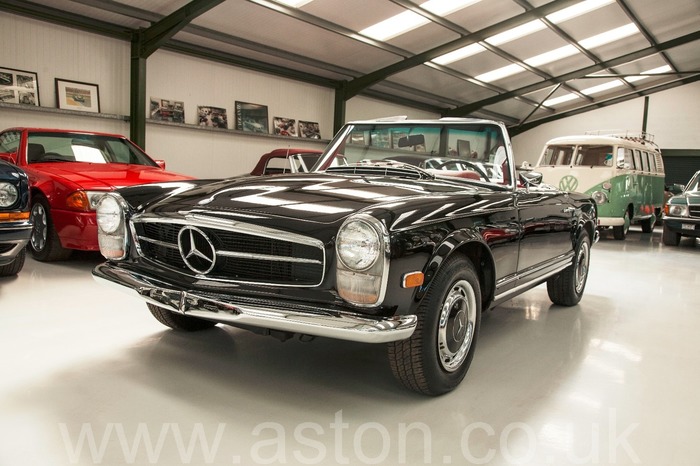 * Car number 538 from the first two months production
* Includes January 1968 factory upgrades
* Sought after 4 Speed manual gearbox
* Original books, service manual, tyre and stereo warranties
* Recent light restoration 1,000 miles ago
* Showing only 45,000 miles
* Superb colour combination
Offered for sale is a beautiful 4 speed manual 280SL that has benefitted from a recent restoration, shows low mileage and comes with original manuals and service book. (Referred to as MB538)
MB538 was completed in January 1968, this early model was launched the same month as the 250SL was discontinued and included the fast updates that were introduced after only 250 odd cars were built.
• Notable changes in the January 1968 model and on this car:
• Chrome Strip under rear license plate omitted
• Number plate moved from front firewall to front door jamb
• Firewall insulation pad material changed from course to smooth
• Mirror in passenger sun visor omitted
• Hardtop front locking handles made separate
• Interior material changed from wool boucle to synthetic tufted material
• Legend plates added around light switch and heater controls
• Emergency four-way flasher made standard
• Floor covering changed from rubber mats to synthetic carpet
• Headrests added to seats (MB538 does not have)
• Oil/Coolant-type cooler replaced by oil/air type cooler
• Injection pump oil filter cap omitted
• Separate intake air heating coil omitted, made integral with throttle housing
• Rubber sleeve added to crankcase vent line
• Wheel-covers made one piece, form changed after chassis number 000045
North American models have a number of subtle differences, the most obvious one being the distinctive "sealed beam" bulb headlights required in the US which MB538 has, versus the Bosch Lichteinheit headlights for the rest of the world.
Other differences of the North American models include imperial gauges
(fitted to MB538), chrome bumper guards (euro style which is preferred), non-illuminated side reflectors (fitted to MB538) lower rear-axle ratios for faster acceleration yet lower top speeds, and no "single-side" parking lights.
US market 280 SL engines required emission control modifications, including "softer" valve timings, a reduced compression ratio and a modified injection pump, which reduced power from 170 PS (125 kW; 168 hp) to 160 PS (118 kW; 158 hp). This car has had it removed increasing power.
European cars were popular as US gray-market imports: those vehicles were brought to the US some years after their original delivery in Europe. Early European imports had aftermarket hazard lights and Kangol seat belts fitted (fitted to MB538), US safety requirements that were adopted in Europe only in later production years.
Chassis Number 538
Engine Number 230
Body number 501, matching to soft-top body cover number
Original Paint Dark Olive 291H
Hardtop also originally painted Dark Olive
The personal luxury convertible may have truly come into existence with the advent of the 1968-1971 Mercedes-Benz 280 SL - itself an evolution of the earlier 1963-1967 230 and 250 SL, or "W113" in Mercedes-Benz speak. The cars took on a "Pagoda" nickname collectively because of their unusual hardtop shape.
Originally launched at the 1963 Geneva Motor Show, the W113 was a clean sheet design for a new decade. The 280 SL, like our feature car, was the last of the series, and today is still instantly recognizable as a Mercedes.
Accredited to Frenchman Mr. Paul Bracq, who headed the Mercedes-Benz design studios at the time, the 280 SL was a technological tour de force when it debuted, and featured a fuel-injected, overhead camshaft, straight-six engine displacing 2778cc, producing 170 horsepower. With disc brakes on all four wheels, a rarity for the time period, Mercedes-Benz took lengths to ensure the 280 SL stopped as well as it went too. Four- and five-speed manual transmissions were available, MB538 being early is a 4 speed manual. 60 mph comes up in 8.6 seconds and stops from 70 mph in just 233 feet, so even today the SL still has enough performance that one could conceivably drive it everyday. Air conditioning was an option too for those in sunnier climates (Not in MB538).
It's no lightweight though. While the "SL" in Mercedes nomenclature stands for "Sport Leicht" or "Sports Lightweight", this is somewhat of a misnomer as the 280 SL is more of a cruiser, and a very solid one at that, make no mistake. The unibody construction featured front and rear deformation zones, a first for a sports car. An aluminum hood, deck lid and door skins saved precious pounds, but the construction of the Pagoda roof that gives the car its nickname is a marvel in itself. It is the work of Mr. Bela Barenyi, who headed Mercedes-Benz pre-development department. While beautiful, airy, and seemingly delicate, it is as solid as the body structure and designed to withstand a load of 1000 Kg. Bela designed it that in a way so a driver could see clearly from all sides without obstruction from the pillars, and avoid potential trouble…and that the construction of the hard top would provide enough rollover protection if the driver could not.
Values of the SL are on the rise, perhaps somewhat attributable to the overall rise in prices amongst its forbearers carrying the "SL" nameplate, the famous 300 SL, and it's baby brother, the 190 SL, but the W113 series is more than capable and valuable in its own right. They are beautiful, usable, and have enough modern conveniences to remain comfortable today. Their driving dynamics are sporting enough, refined and comfortable. The bucket seats are supportive, and the low shoulders invite one to rest an arm, while cruising. And like any Mercedes-Benz from the era, its build quality is impeccable.
The 280 SL was originally created as a sports coupe/convertible, but the huge demand for the car in the U.S. morphed its reputation into more of a touring car than one with sporting intentions. All of this is evidenced by the prevalence of the Pagoda's automatic transmission and air conditioning for the American market.
This cars superb 4-speed manual transmission overshadowed the later and rarer ZF 5-speed manual, and without the large under-dash air-conditioning system further adds to a purists hardbodied, low mileage well respected sports car- very special indeed.
Call us on
+44 (0) 1207 233 525
Or why not try our Car Finder Service to locate your perfect match?