1961 Mercedes Benz 300D Type 189 "Adenauer"
SOLD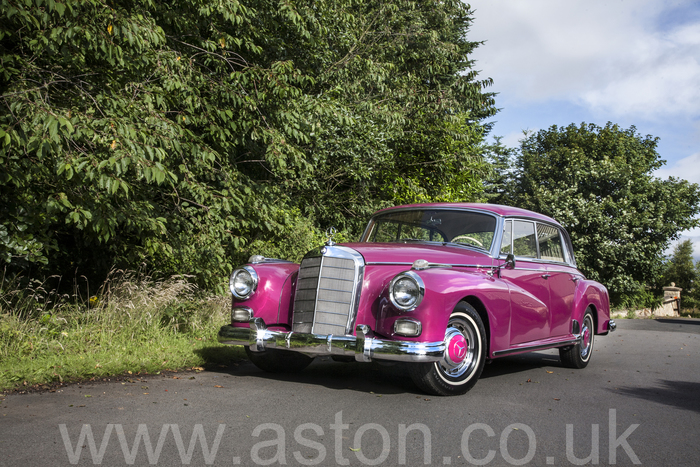 Avant Garde meets old world with this prestige German classic from the swinging sixties.

Until recently part of a prestigious UK collection, this fabulous 300d is not one for the shy & retiring.

Back in the late 50s and early 60s America was splashing hot pink on everything from Thunderbirds to Cadillacs. Germany's answer was the "Strawberry Red" Mercedes Benz offered on all models including 300SL and 300 Cabriolet & Sedans. Few customers passed on the more traditional colours of the day, making this an incredibly rare model indeed.

Believed to have been part of the stable belonging to the famous store owning Eaton family from Canada, it was certainly designed to make a statement.

This is also the type 189 300d and therefore one of the last 300 Sedans to be made. Introduced in August 1957, the 300d featured a longer wheelbase than the standard 300 plus fuel injection and unique hardtop configuration transforming it into a pillar-less phaeton.

An additional 4 inches of wheelbase provided greater rear legroom, equaling that of the long wheelbase model Rolls-Royce Silver Cloud. Removable rear quarter lights allowed an unobstructed view in and out from the front vent window on back. Much valued as a "parade car" and the choice of distinction for royalty and heads of state, including the Shah of Iran and West German Chancellor Konrad Adenauer, in whose honour the car would come to be referred to as simply "an Adenauer."

Complete with original documentation including owner's manual, parts catalog, service book etc. this is a fantastic opportunity to purchase what must be one of the coolest cars ever made by Mercedes Benz.

For more information, please contact a member of our sales team:

+44 (0)1207 233 525
Call us on
+44 (0) 1207 233 525
Or why not try our Car Finder Service to locate your perfect match?