2007 911 (997) Carrera 4S Cabriolet
SOLD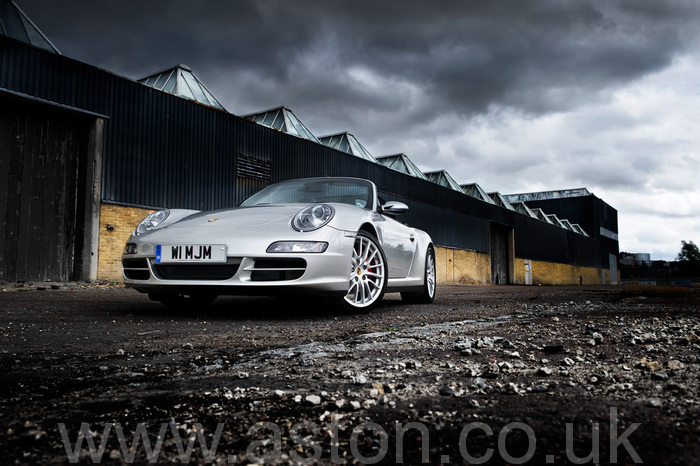 "The warm caress of sunlight and the growl of a 3.8-litre flat six, coupled with the urge from 355bhp, the whistle of songbirds and the chirp of 305/30 tyres on special order 19-inch alloy wheels - Senses feasting upon sensations." There's a point to cabriolets that only really becomes clear once you get behind the wheel – simply that that they offer a driving experience like no other, you become immersed in your environment. Every cabriolet brings with it a whole new palette of sensations, but it really helps when the colours are provided, as they are here, by Porsche. Brakes are ventilated and cross-drilled and, like much of the C4S Coupe, they are taken from the 911 Turbo. The suspension is lowered by 10mm compared with the normal Carrera's level, it features a rear spoiler that automatically rises when required, and a folding canvas hood that can be raised or lowered with the push of a button, or even remotely using the key. Also, unlike most convertibles, the roof can be operated on the move, up to 30mph! There have been endless eulogies to the handling, 185 MPH top speed and 'fearsome acceleration' of these stunning cars, and if you ever get to drive one, it all becomes blatantly obvious. You quickly become totally connected to every aspect of the driving experience. Throttle inputs start even as you're just thinking of pressing your right foot. Spin the engine to 5,500rpm and the engine note is tingling. The nose goes where you point it. Quick direction changes are easy. You know how much grip you have. The speed is there when you want and the brakes are utterly dependable too. There's so much capacity and capability – Fantastic! This car benefits from a 'Porsche Multi-Point Check' undertaken at 20107 miles on 15/06/10. As well as a manufacturer's warranty extended until June 2011 and new discs all round, this particular C4S also has almost £10,000 of factory options fitted that include the following; • Black Leather Interior • Navigation Module • BOSE Surround Sound System • Park Assist • 19" Sport Design Wheels • Tyre Pressure Monitoring • Sport Chrono Package • Stainless Steel Tail Pipes • Sport Seats • Heated Seats • Exterior Coloured Seat Backs • Embossed Head Rests… The list goes on. With one fastidious professional keeper from new and full Porsche Service History, this cared for example of the iconic 911 is ready to be cherished and enjoyed come rain or shine!
Call us on
+44 (0) 1207 233 525
Or why not try our Car Finder Service to locate your perfect match?