1953 Rolls Royce Silver Dawn
ENQUIRE NOW
SOLD

Use our bespoke finance calculator to discover how we could help you to get the car of your dreams.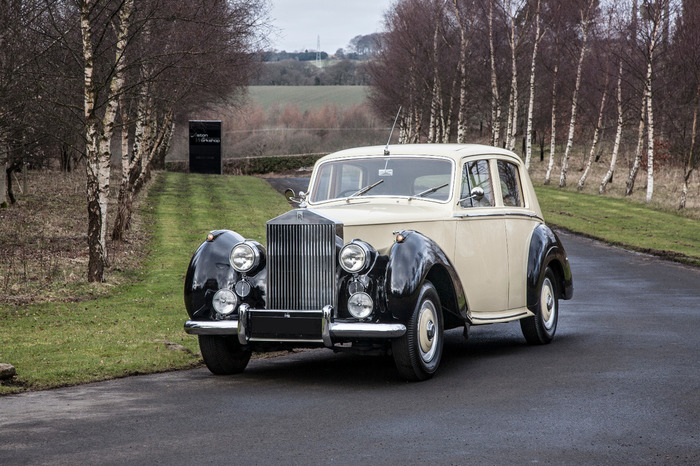 1953 ROLLS ROYCE SILVER DAWN - *IN EXCEPTIONAL CONDITION*

A very rare and sought-after example of the smaller bodied Rolls Royce, only 761 of this Silver Dawn model were ever made. This magnificent example was restored and repainted in Australia before being returned to the UK in 2015, with some remaining minor works being completed here in the UK by the specialist importer.
The brakes, steering and running gear were overhaul by a Rolls Royce specialist at a cost of over £3,500 (less than 150 miles ago), and it is running beautifully with no further mechanical work required.

This car is the preferred large boot version with a smooth running automatic gearbox and having spent most of its life in Australia it has NO RUST that is usually associated with UK cars.

Overall, this Rolls Royce is in first-class condition. A matching numbers car with provenance papers of the original factory build sheets and delivery details to the first owner. It is evident from the state of this car that a lot of time and money was spent bringing it up to its present, exceptional condition in Australia (still has all the tools etc.). This model is also scarce, as only 761 were produced and it features an unusual kneeling Spirit of Ecstasy.

Probably one of the soundest RUST-FREE examples available, it has a smooth 4½ Litre engine with excellent oil pressure and correct running temperatures as befitting a British Crewe built Rolls Royce. The paintwork, upholstery, carpets, roof lining and woodwork, are all in a lovely condition. The front and rear bumpers have been re-chromed, and the chrome radiator shell is in an excellent condition. There is some minor pitting now beginning to show on the door and boot handles which only adds to the overall solid patina of this 65 years old beauty.

Representing a sound investment opportunity, it looks resplendent in fresh cream paintwork with black wings. The car is currently fitted with proper standard fit 'cross-ply' tyres, but if more sporty handling is required, it will benefit from being equipped with radials. For anybody wishing to take advantage of the cars tremendous prestige and presence, it would, of course, make an ideal wedding car, capable of earning up to £1,500 a day when being hired out for weddings. This is an investment opportunity not to be missed, as these hand-built cars are only going up in value.

Built on chassis No: SNF109 in 1953 by Rolls Royce of Crewe, it was first delivered to a Mrs Chessher in Sydney Australia in 1954.
Original Additional Special-Order Features were;

Automatic gearbox
Double filament headlamps
Colonial front springs
Two Fog Lamps
High-frequency horns
Blinker indicators
Solid front body mounting brackets
Stone guard to the petrol tank
Flat rear vision mirrors
Locks to bonnet (both sides)
Oil Bath Air Cleaner
Extra Kit of Tools and Spares under driver's seat
High-Speed Fan
Sliding Roof
To arrange a viewing please contact a member of our sales team for further information:
+44 (0)1207 233 525
Call us on
+44 (0) 1207 233 525
Or why not try our Car Finder Service to locate your perfect match?